Kauai, Hawaii
Relax. Slow down. Take it easy.
That's what I had in mind when I decided on a vacation in Kauai, the oldest Hawaiian island. Also known as the Garden Isle, Kauai has fewer than 70,000 inhabitants, and a rich history including being the first landing site of James Cook, and the last island in the archipelago to join the Kingdom of Hawaii.
When you land at Lihue Airport it becomes apparent why you're on the Garden Isle. There's green everywhere, contrasted by the mountains to the west of the island. The second thing you'll notice is metal that is exposed to the elements shows signs of rusting. The salty air combined with the small size of the island means that most cars (except rentals for tourists) are a decade or more old. One highway (33 miles in length, max 50 mph limit) doesn't exactly make your odometer spin.
I'm not a speed freak (anymore), so I was content with the lower speed limits. For example, on the highway, as you approach a town, it'll go from 50 to 45 to 35 to 25 while in town and gradually back up. Much of it is one lane in each direction (except small stretches in major towns or for passing). Some locals and tourists always seem to be in some kind of hurry, though.
You don't go to Kauai for the night life (there isn't any), but there's so much more to do. Most of it is exploring quaint little towns and taking in the nature. Then there's the beach, too. The Kauai Underground Guide (free PDF) is awesome.
I strived to eat a lot of fresh fish with hopefully less mercury than back home. Ono, another name for wahoo, is a great fish when grilled or inside a sandwich. Honestly, I wouldn't have tried it if they had called it wahoo; bad experience at Wahoo's Fish Tacos, I guess. We found a traditional place where only locals eat and everyone seemed to be having either fried or laulau-style meat and poultry, with a side of rice. It was cheap and basic fare, but I think KFC does it better.
A better option is to try one of the fish markets where you can get sashimi-grade fish and other seafood in taco, sandwich, or fried form. Of course, it would be illegal not to serve fried chicken, too. We splurged a bit on touristy restaurants at Kukui'ula Village. Be sure to ask for the free focaccia and curry muffins at Josselin's Tapas Bar and Grill. It's a foodie type joint, but damn tasty. And finally, Bubba's is a must; it's the Kauai equivalent of California's In-N-Out. Brennecke's Beach Broiler has the best Mai Tai you can enjoy in between snorkeling and beachin'.
Kayaking up the Wailua River to bathe in the Wailua Falls is not to be missed. Our guide was awesome. He pointed out red honeysuckle, purple flowers that taste like mushrooms, and found a rare mango that we all shared. The 5+ hour roundtrip trek is worth every moment, considering it also prepares you to hike the muddy Hanakapi'ai Trail. Best educational kayak/hike combo ever.
Kauai is mostly an explorer's paradise and a sense of adventure is required. I'd feel guilty if all I did was lounge on the beach. Here are some of my favorite memories from around the island.
Enjoy!
Spouting Horn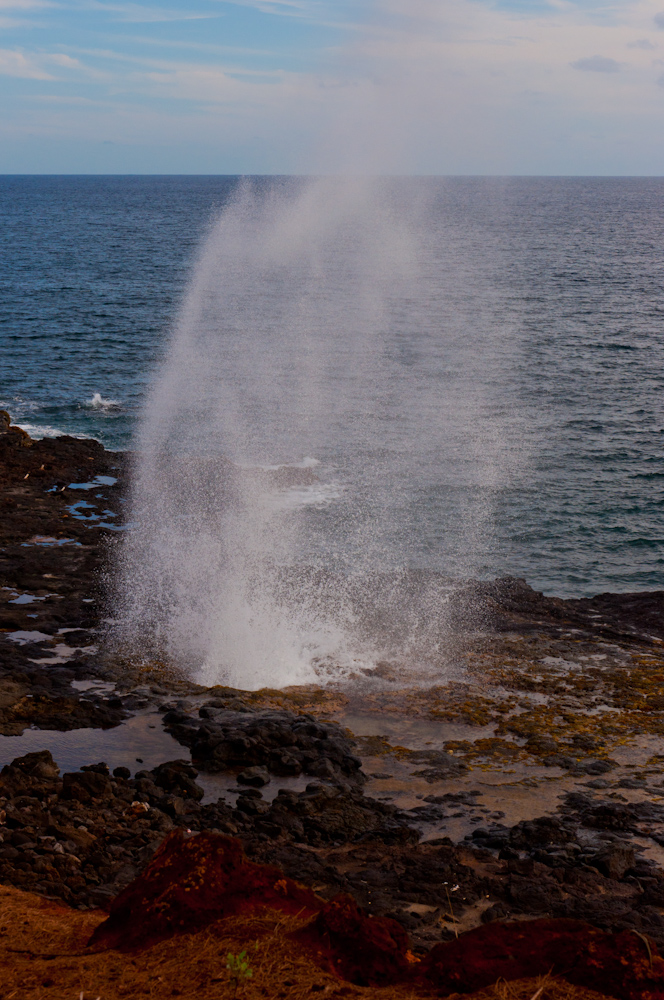 A blowhole near the end of Lawa'i Road that bursts as water rushes under the lava shelf. It's supposed to be more spectacular in the evening as the sun sets so you see sparkles of the rainbow, but it didn't occur to me. Best to go there when the sea is rough.
Ho'ai Beach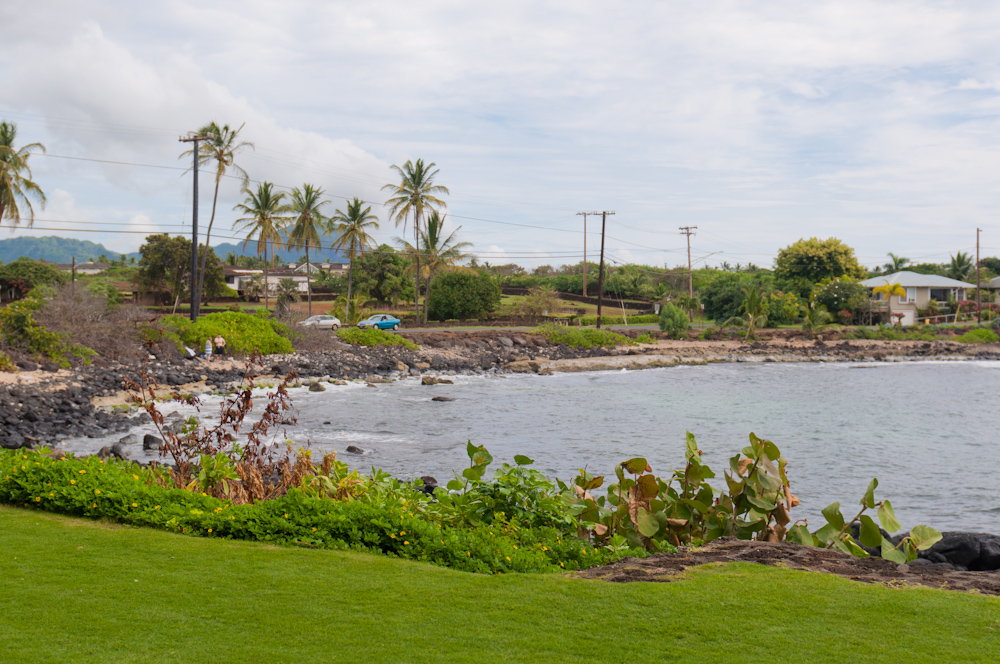 Waking up to this sight every morning was wonderful. So much that snorkelers seemed to prefer the rocky beach here in Ho'ai Bay more than the sandy Ho'ona Beach down the road.
Kilauea Lighthouse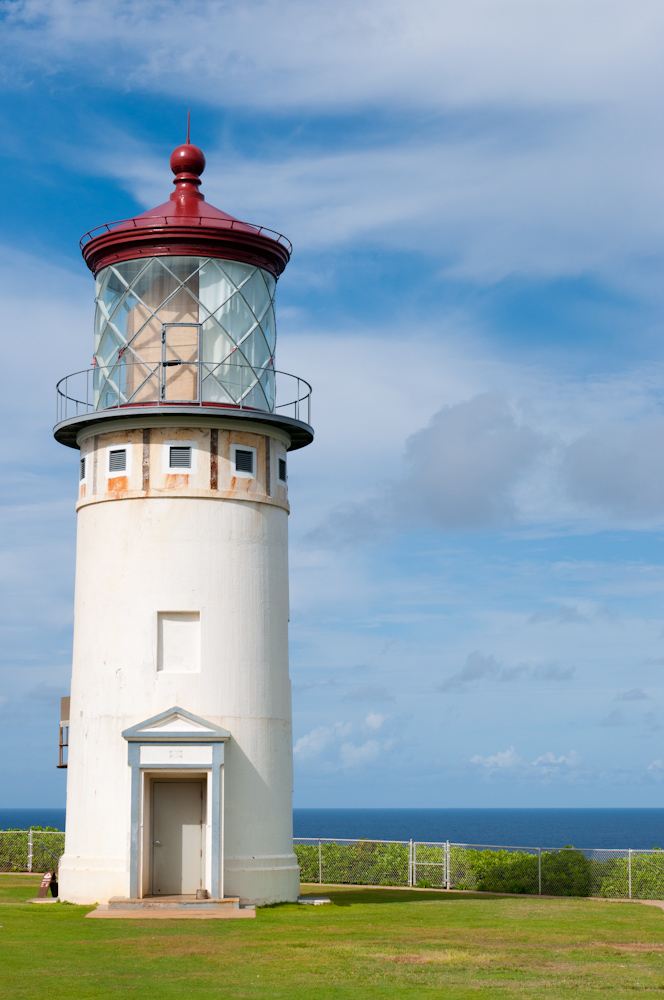 This is the northernmost point of the Hawaiian Islands. Replaced in the 1970's with a light beacon (behind it), there's some restoration work going on to make it more functioning, but they're taking their sweet time in completing the work.
Moku'ae'ae Islet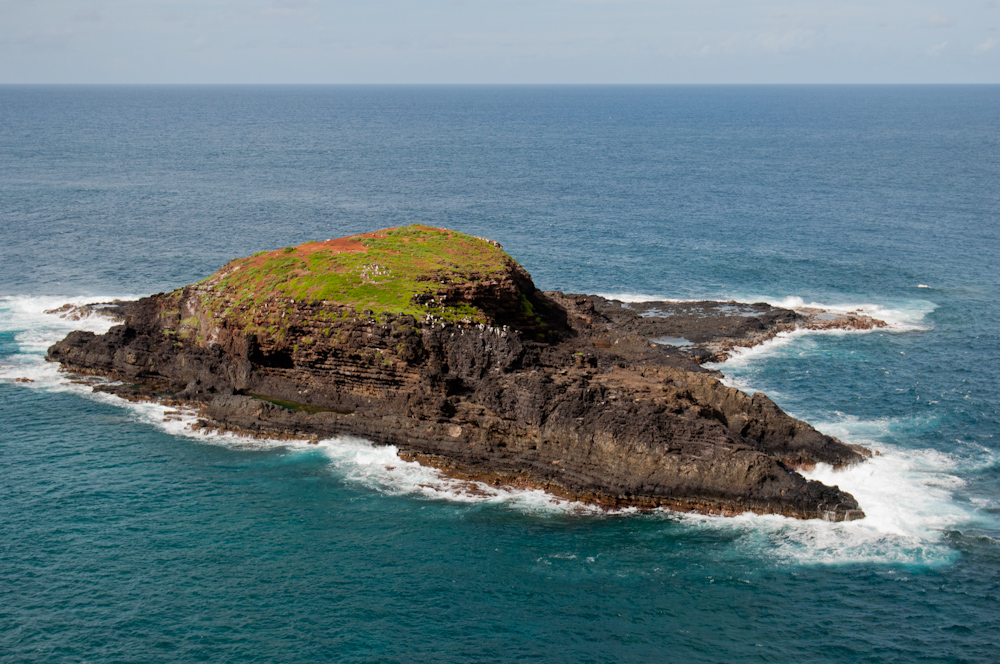 A bird sanctuary just offshore from the Kilauea Lighthouse.
Kilauea Point National Wildlife Refuge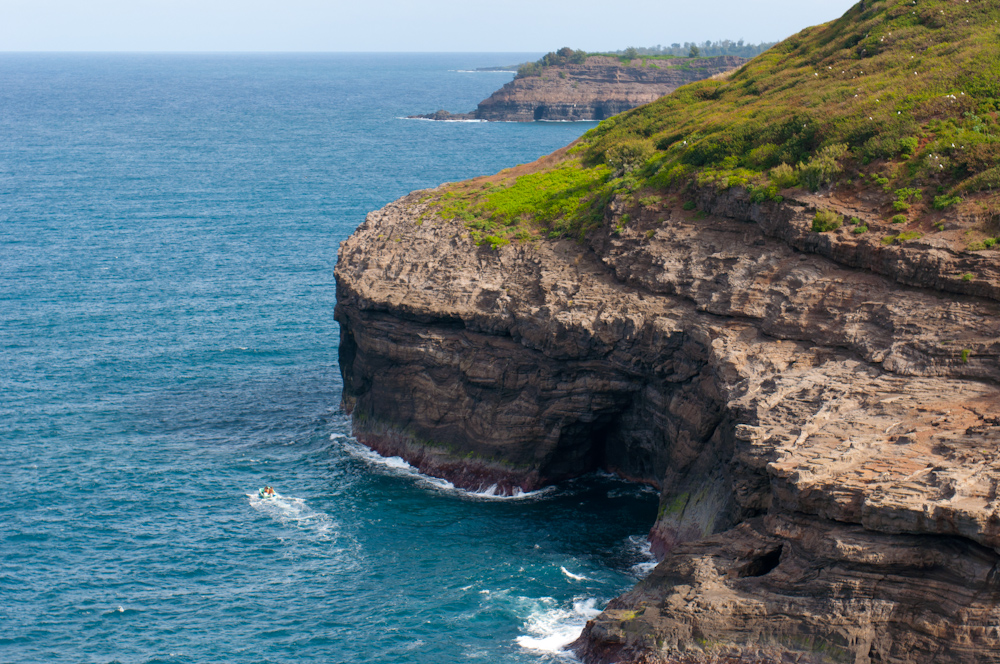 Yes, all those white dots are birds relaxing. You can also see a small boat exploring the rocky mountain side.
Kalihiwai Beach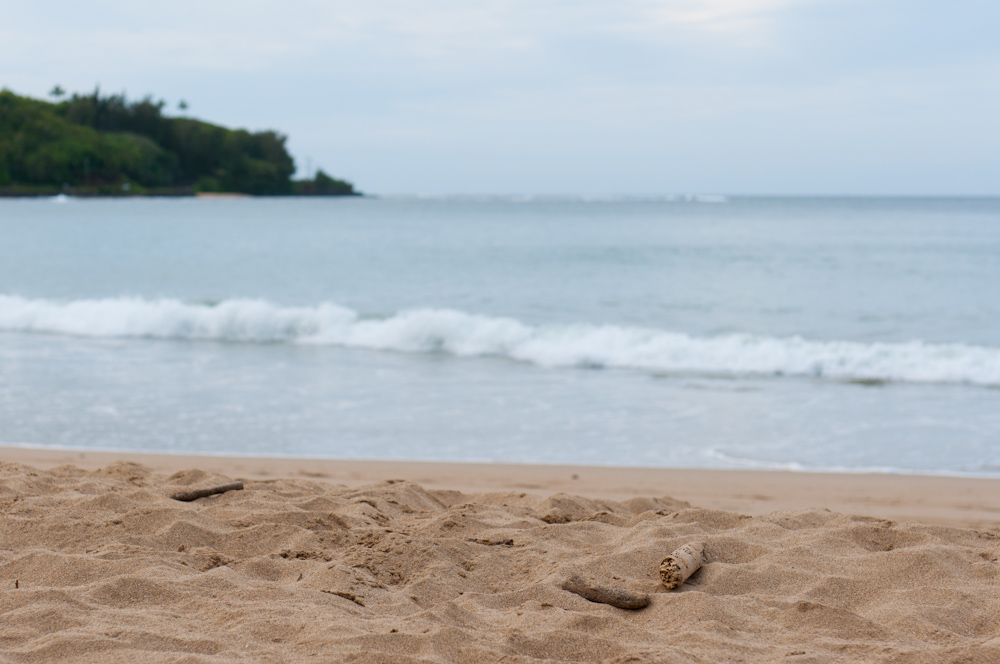 Drive a little north of the Kilauea Lighthouse and you'll get to this beach. It's situated in what seems like someone's giant backyard.
Hanalei Valley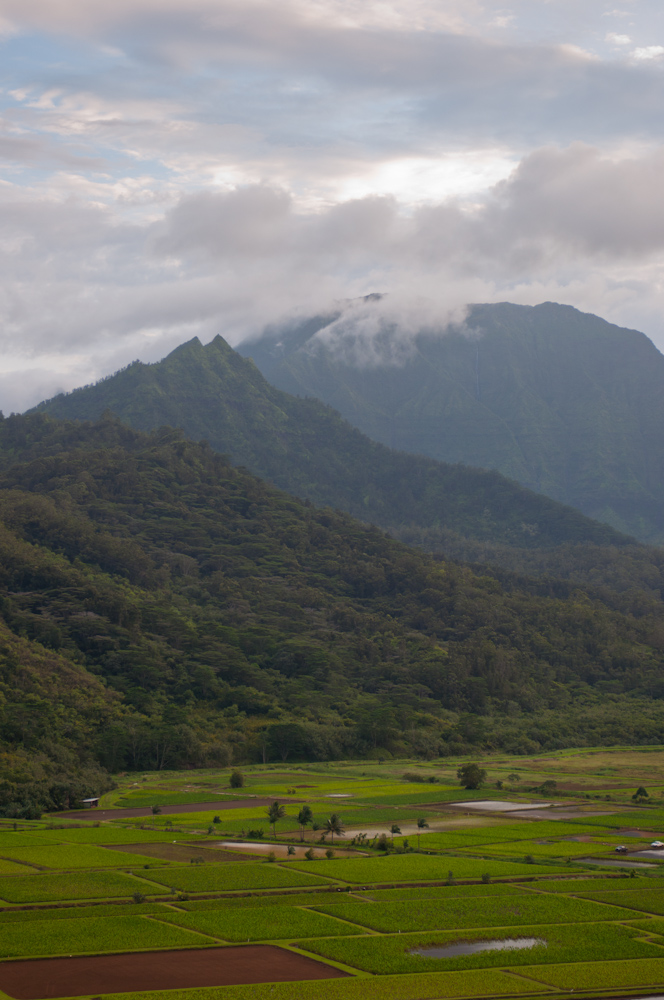 A typical shot of what a lush valley agricultural valley looks like.
Coconut Shrimp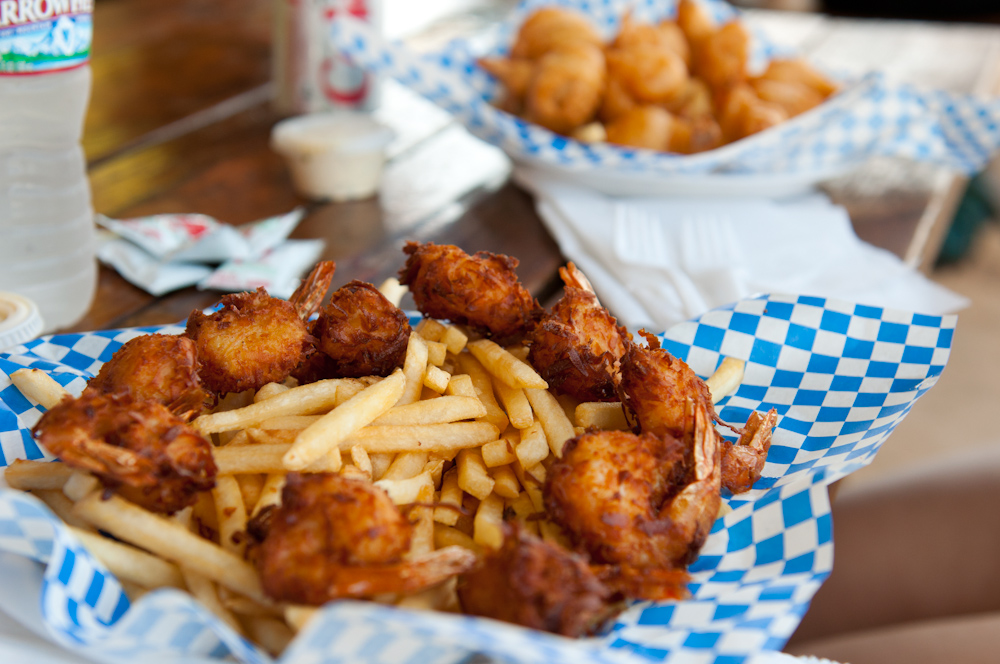 On a hot day, a quick fix at the Shrimp Station is all you need. Beer-battered shrimp in the background.
Mailbox on Waimea Canyon Drive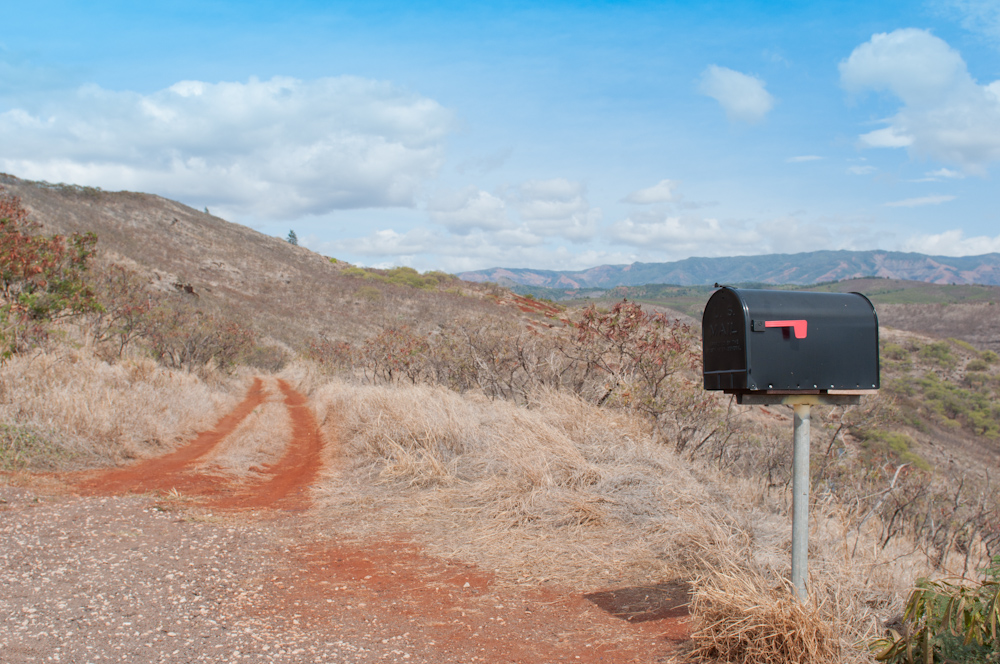 On the drive up to Waimea Canyon, I spotted this mailbox. Makes you almost want to commit a federal crime and deliver the mail to its owner to find out where he lives!
Overlooking Waimea Canyon to the East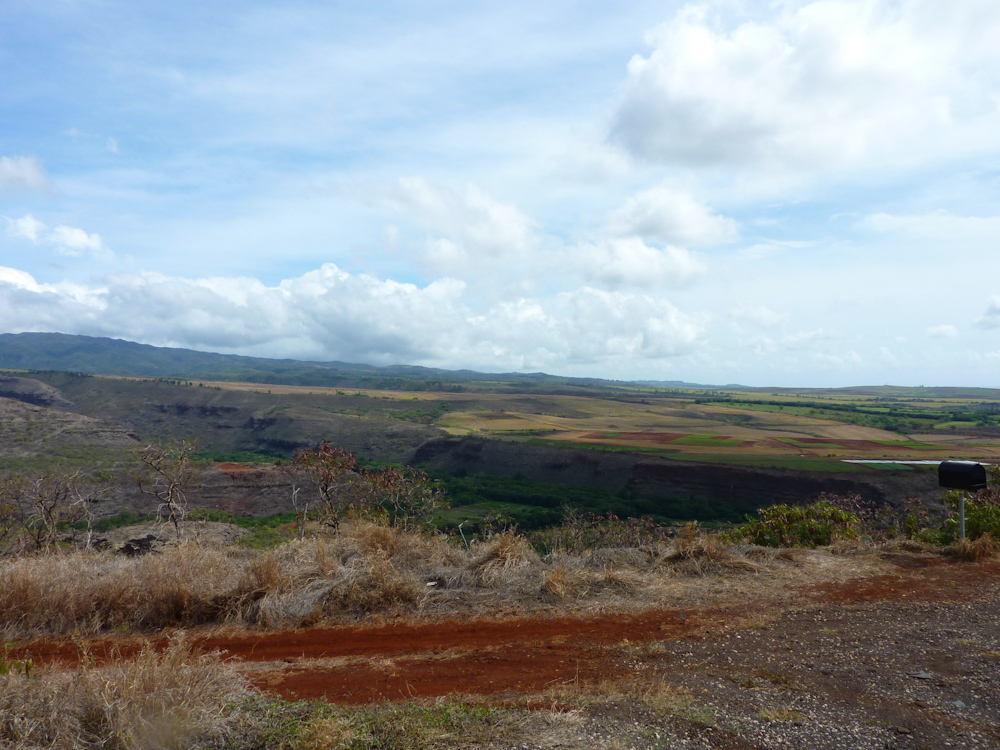 A narrow opening across the eastern end of the Waimea Canyon. Volcanic red dirt is everywhere here, fantastically nutrient rich.
Waimea River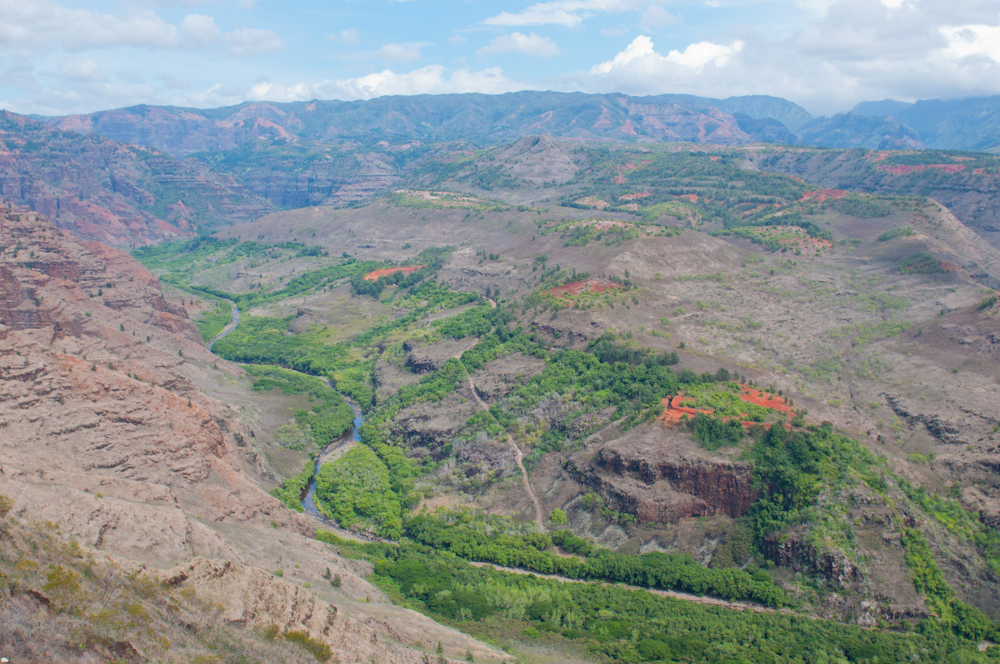 The Waimea River snakes through the Waimea Canyon on its way out to the Pacific Ocean.
Stream along Waimea Canyon Drive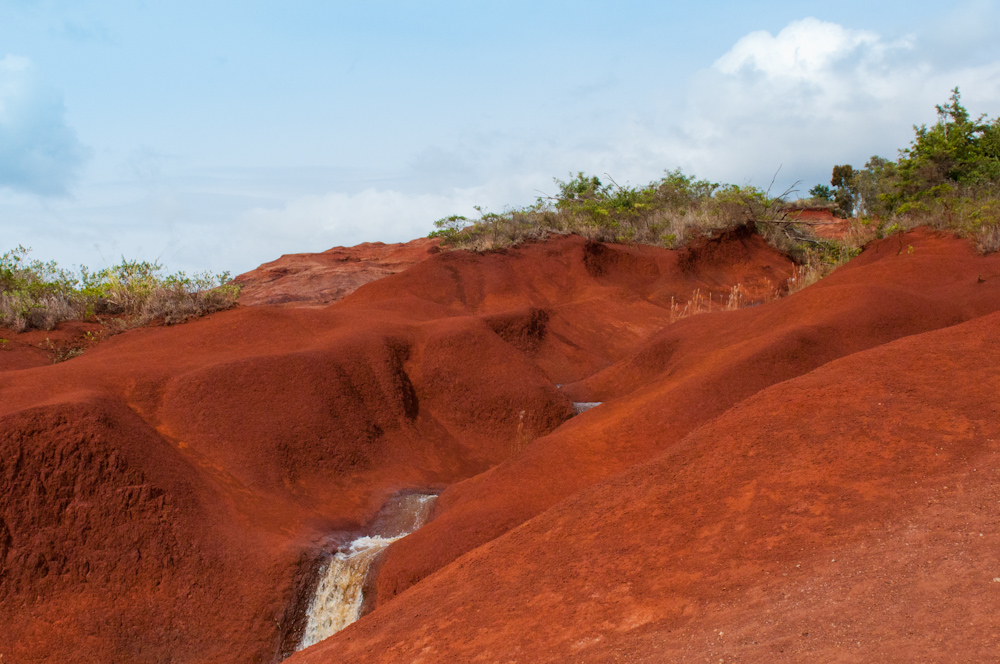 Rivers seem to flow everywhere on the canyon. Someone will find this and confuse it for what Mars looked like with waterfalls.
Waimea Canyon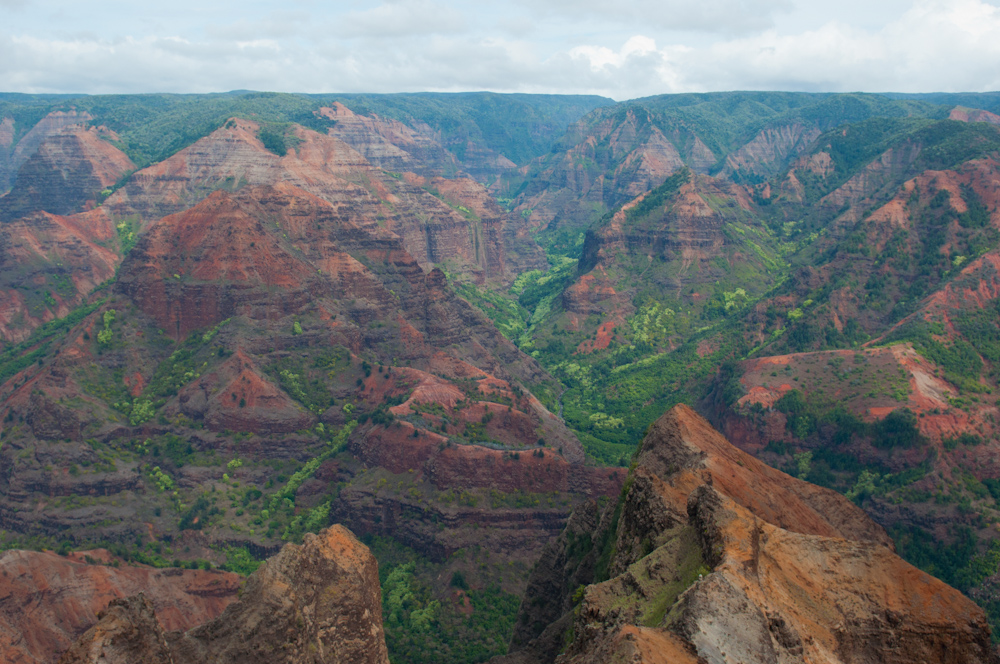 The Grand Canyon of the Pacific. The lines on the walls are caused by lava flows and rivers that flowed from Mount Waiʻaleʻale thousands of years ago.
Prayer at Waimea Canyon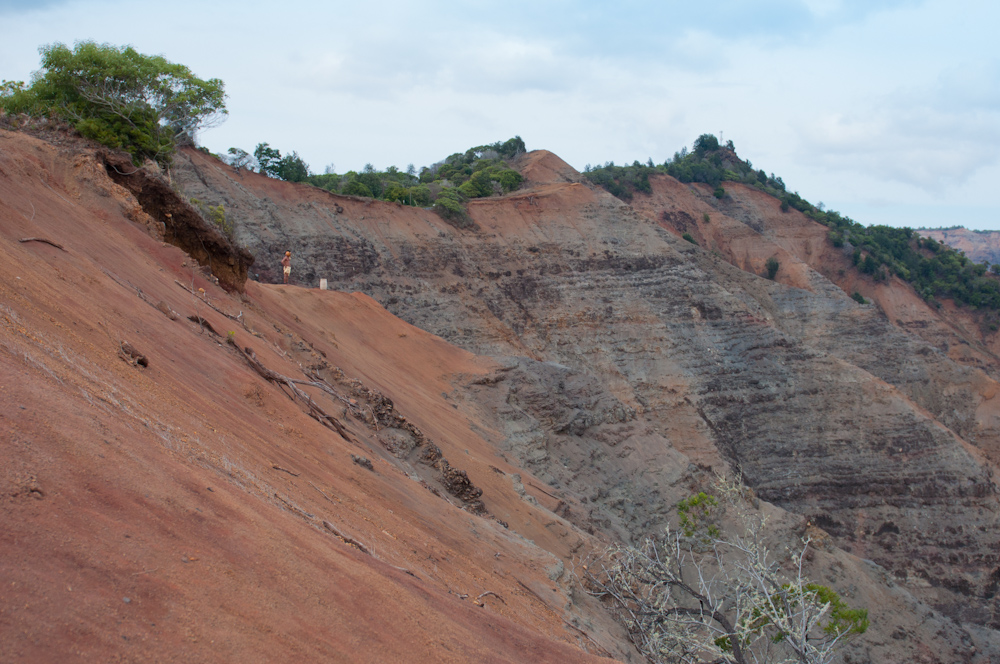 Paying respects to the canyon.
Cliff Trail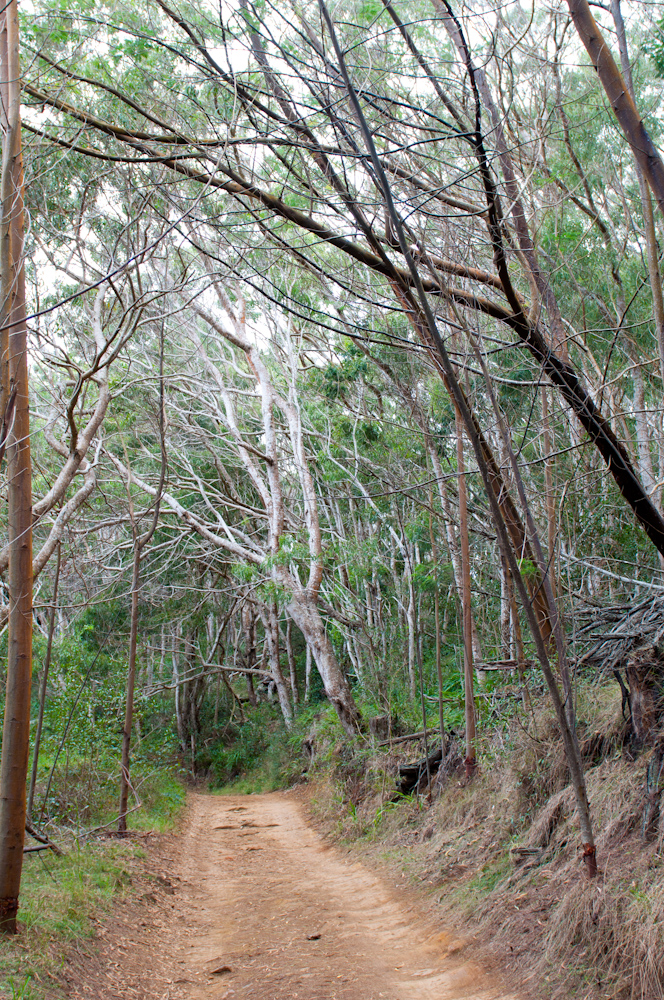 The first trail of Kokeʻe State Park, leading to a different viewpoint of the canyon.
Trees on the Cliff Trail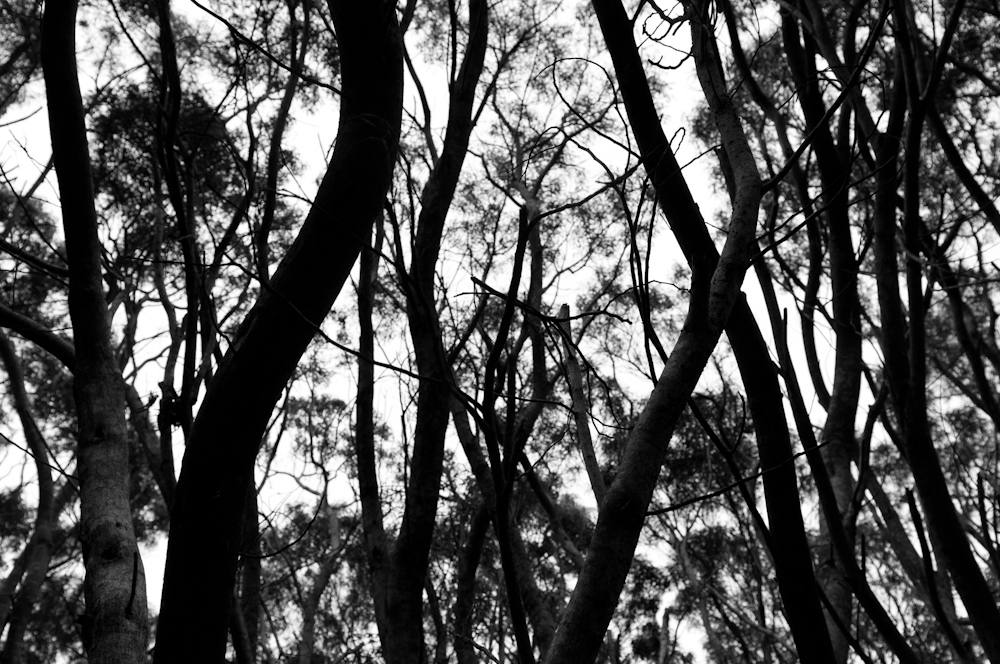 Cliff Viewpoint, Waimea Canyon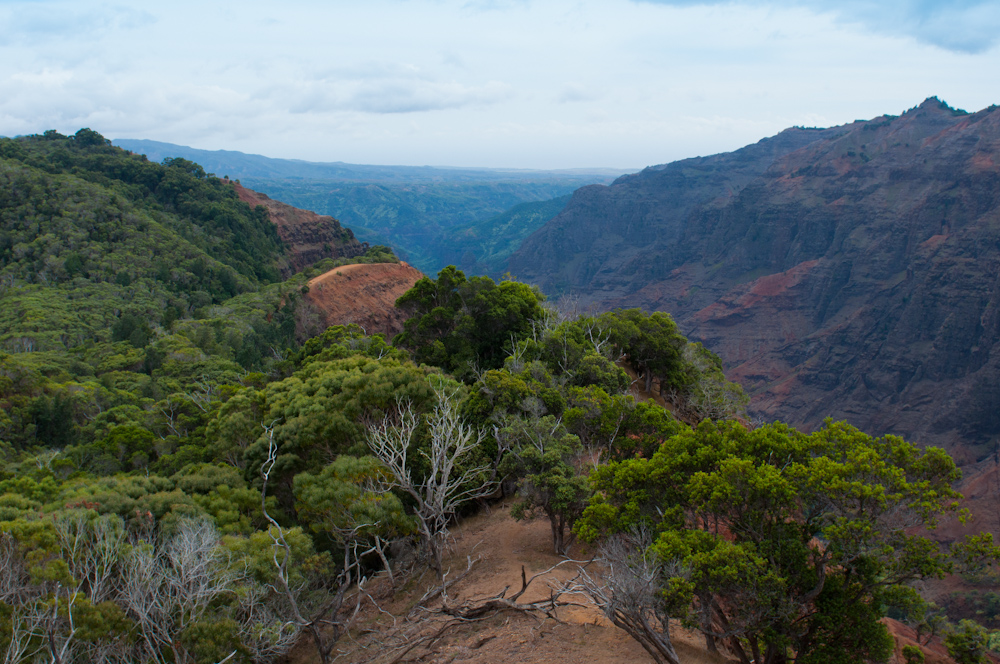 The end of the Cliff Trail. Overlooks the Canyon Trail, which goes through Waipoʻo Falls.
Waimea Canyon Drive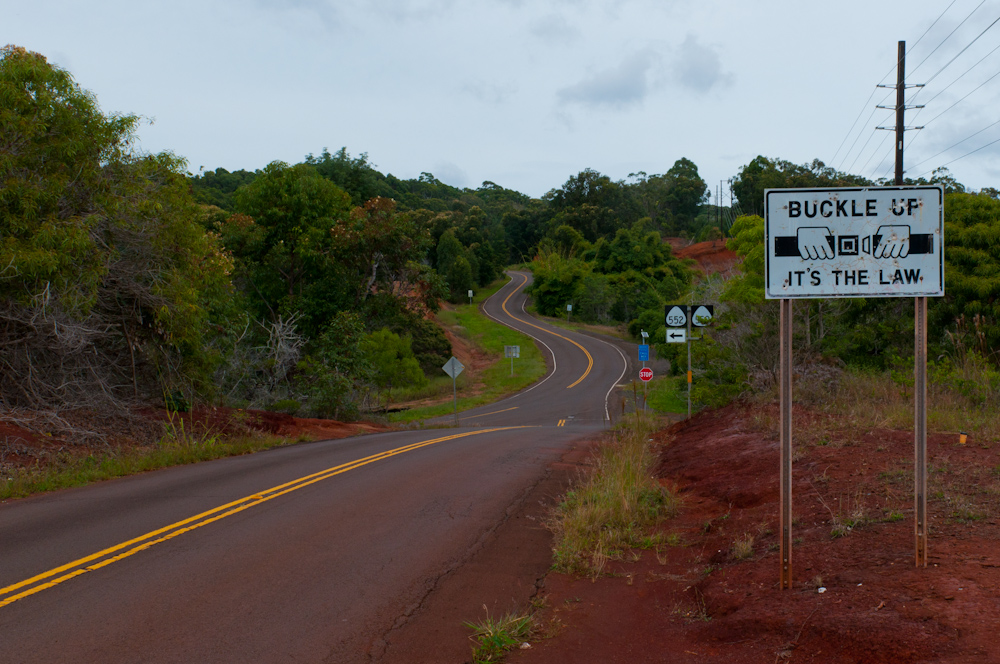 The entire road is covered in a red volcanic film. And I guess people like to shoot signs that tell them what to do.
Russian Fort Elizabeth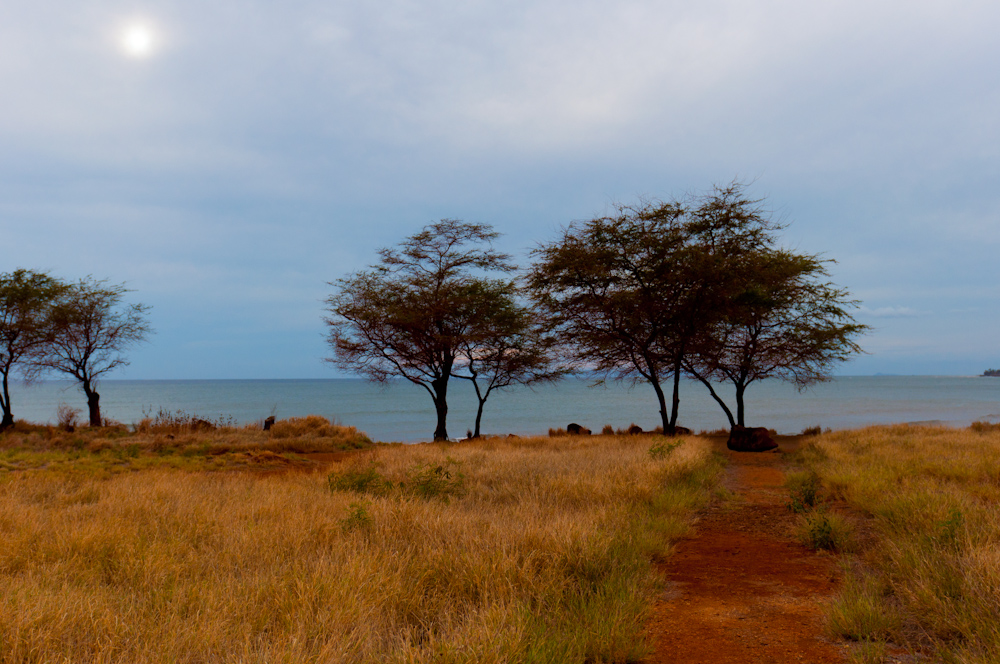 A dismantled Russian forth near the mouth of the Waimea River. Very near James Cook's landing; his original flag seems to also still be installed.
Sunrise at Kuhio Shores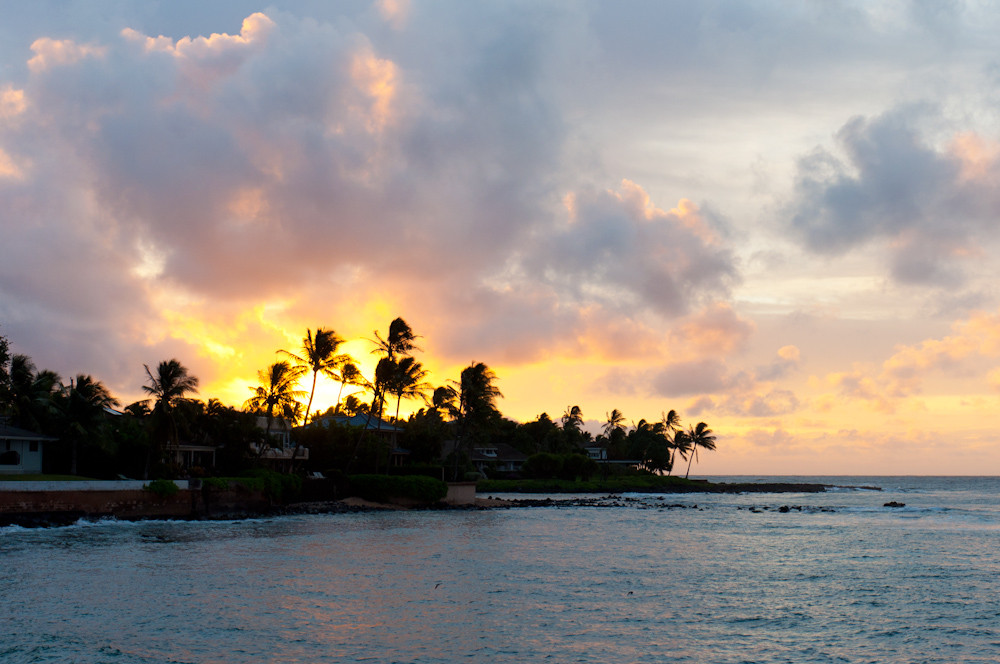 Footsteps at Maha'ulepu Beach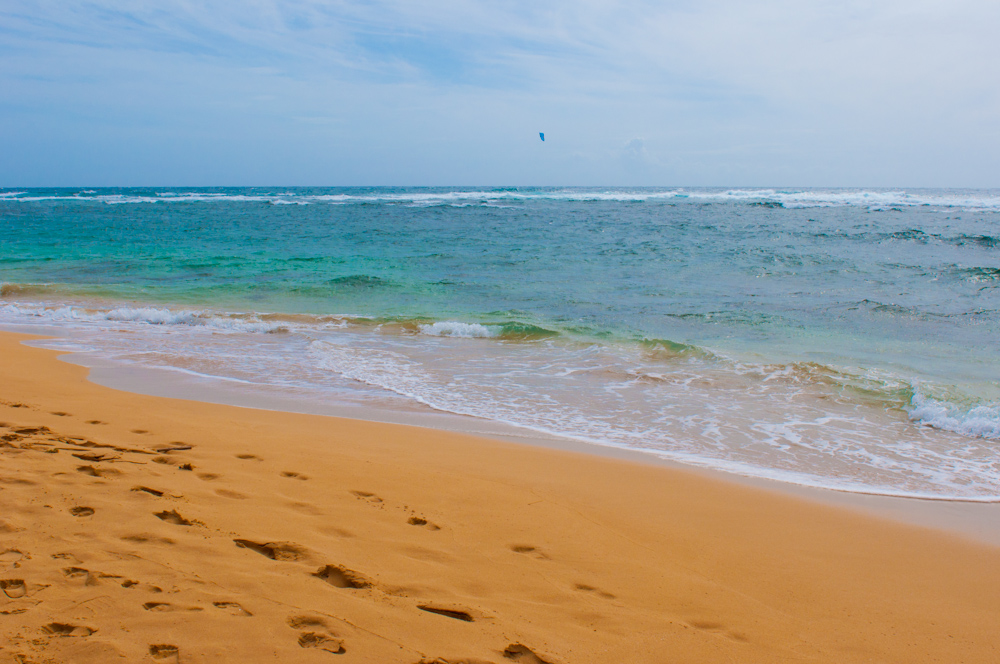 In the winter, you'll see mostly windsurfers and seasoned surfers attempting anything in these waters.
Waves at Maha'ulepu Beach
Maha'ulepu Beach
Strong winds limit enjoyment on this side of the beach. There are few trees to protect you from sandstorms.
Makauwahi Cave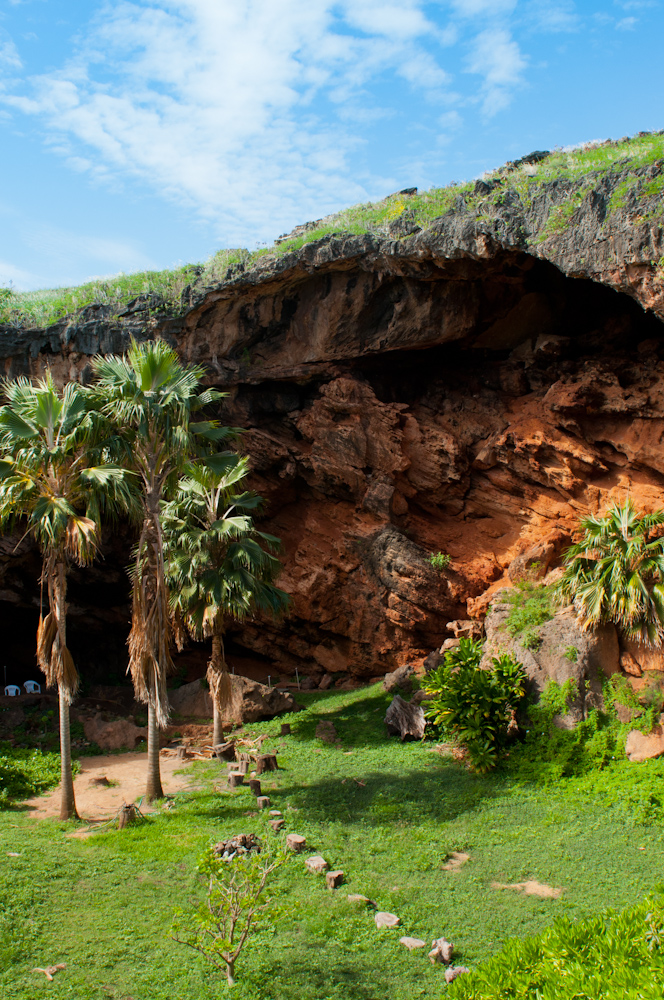 An active archeological dig with 10,000 years of preserved fossils found. The entrance requires crouching and head bumping is an initiation injury.
Pila's Point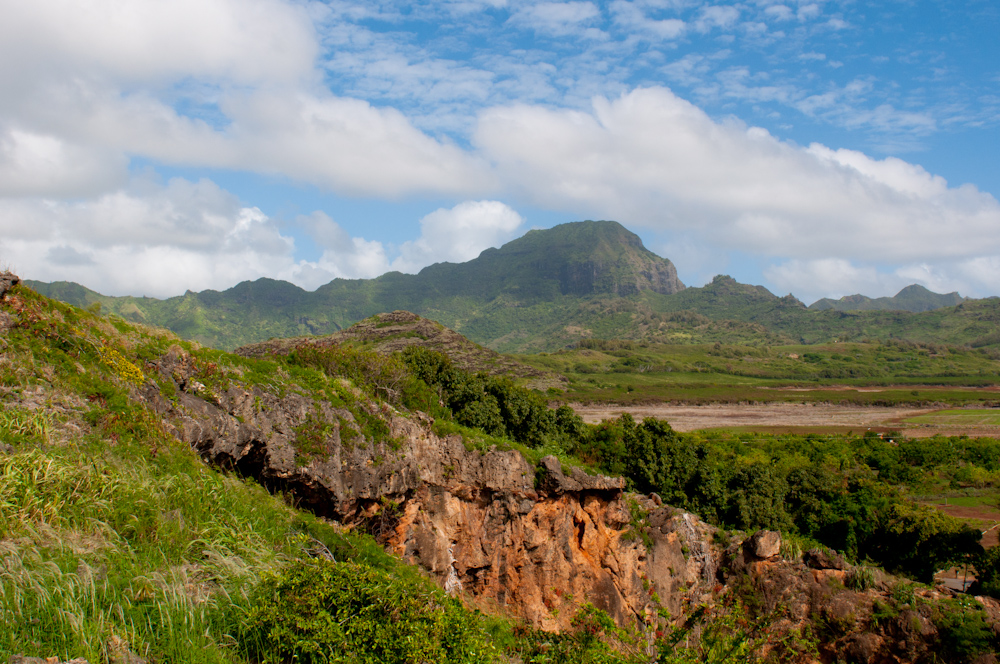 Overlooking the Maha'ulepu area. Sugar company land.
Bridge to Makauwahi Cave Reserve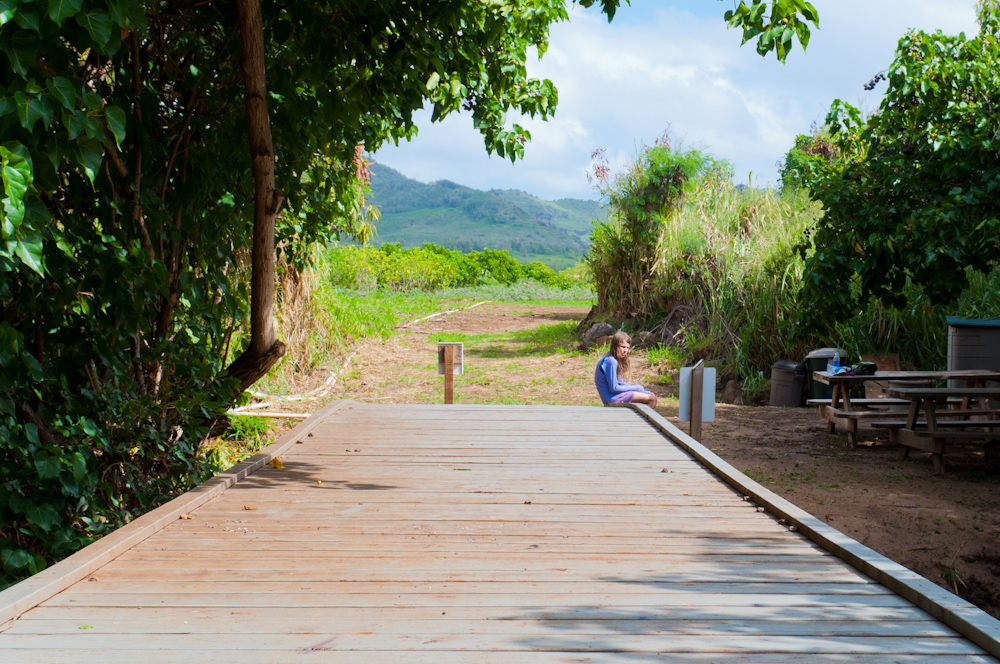 Makauwahi Tree Stump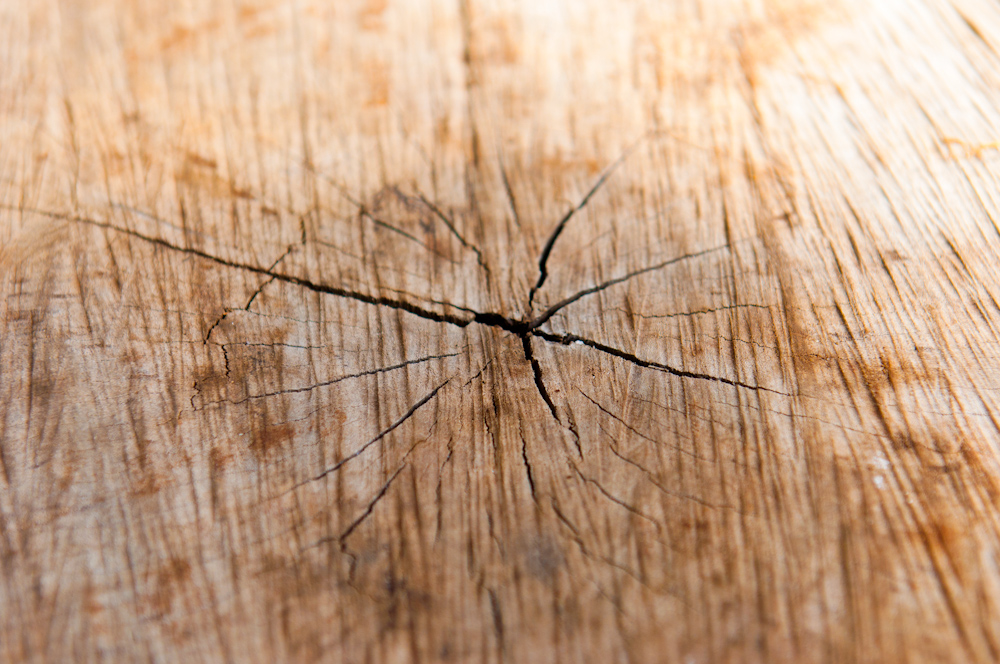 Makauwahi Cave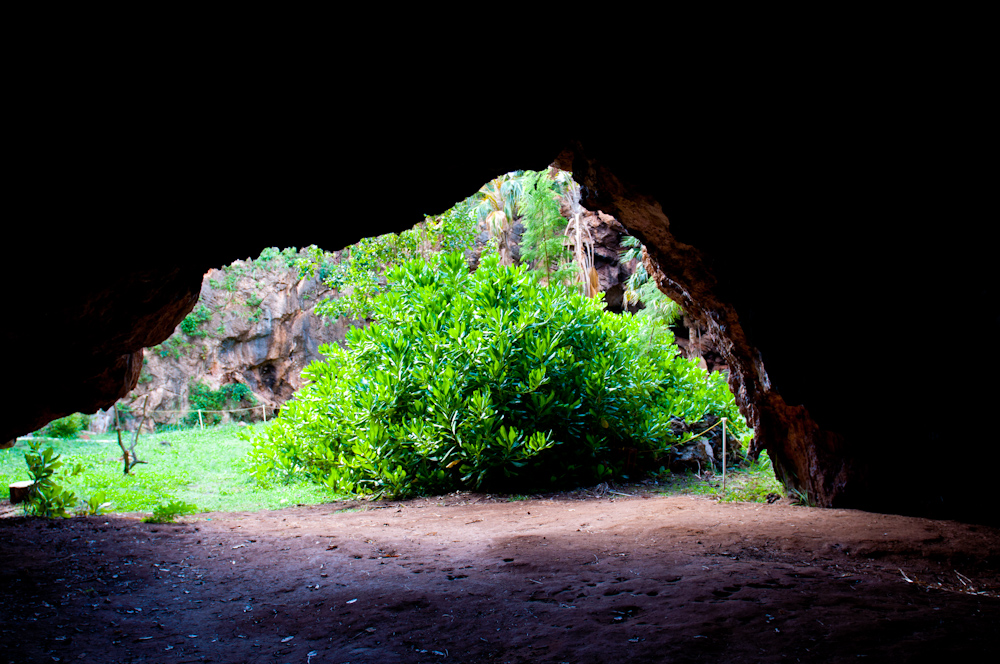 A view of the open-air cave from the entrance.
Kilohana Plantation Railway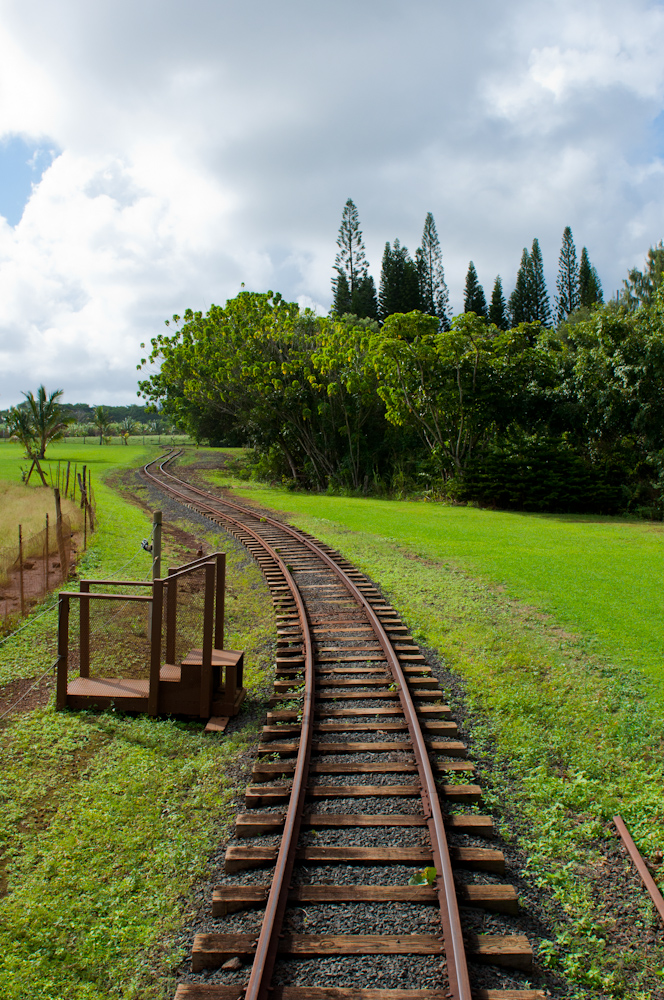 McBryde Garden at National Tropical Botanical Garden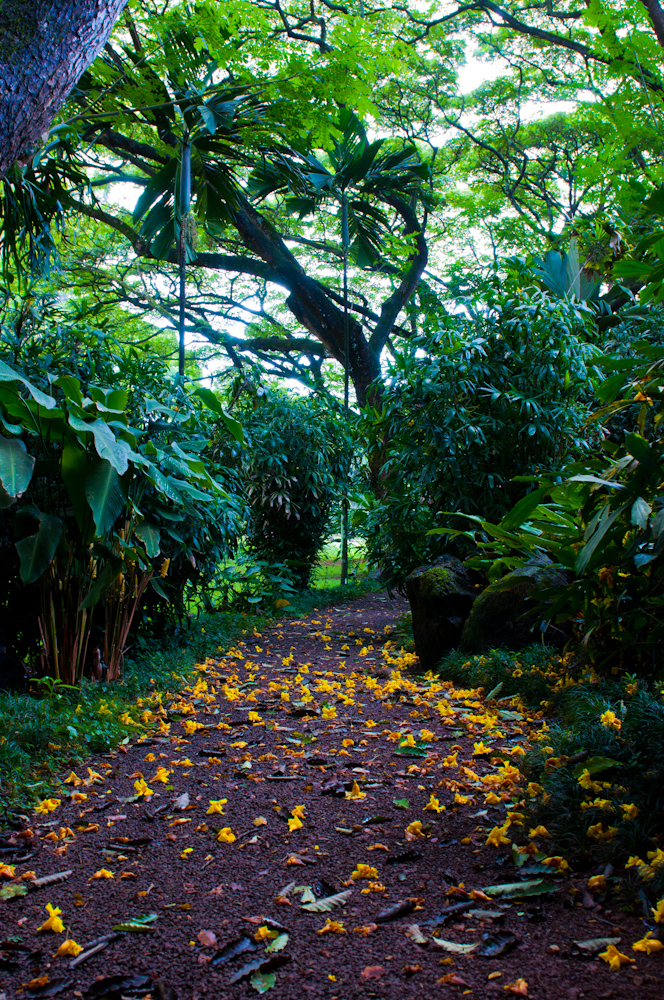 Dead Tree at Kalalau Lookout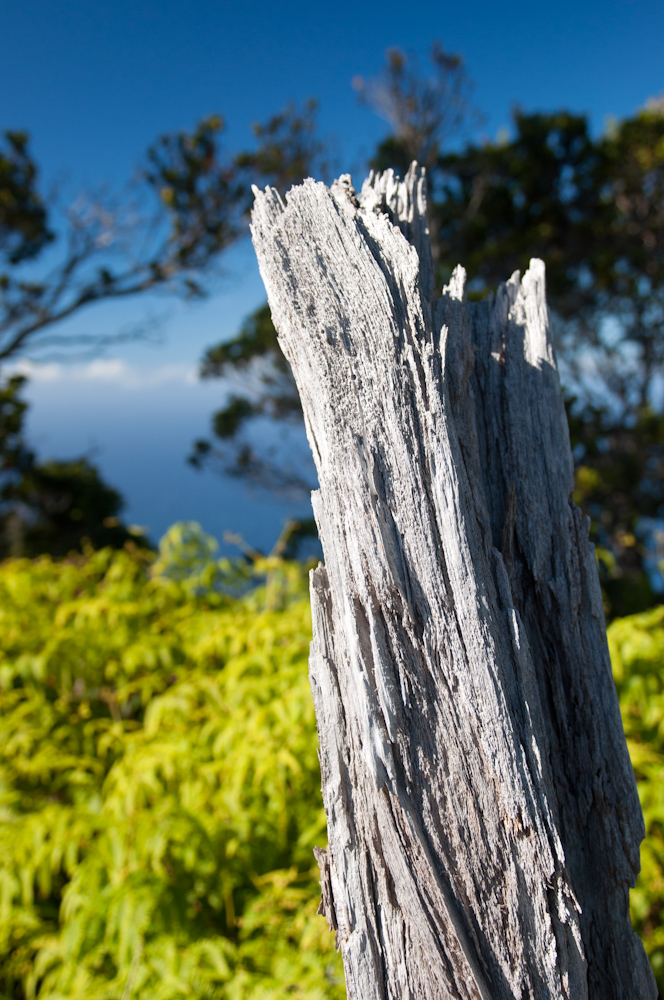 At higher altitudes, you'll often find isolated patches of dead vegetation, like this tree stump. I'm not sure why, but I'd like to think a spray of lava killed it!
Pu'u o Kila Lookout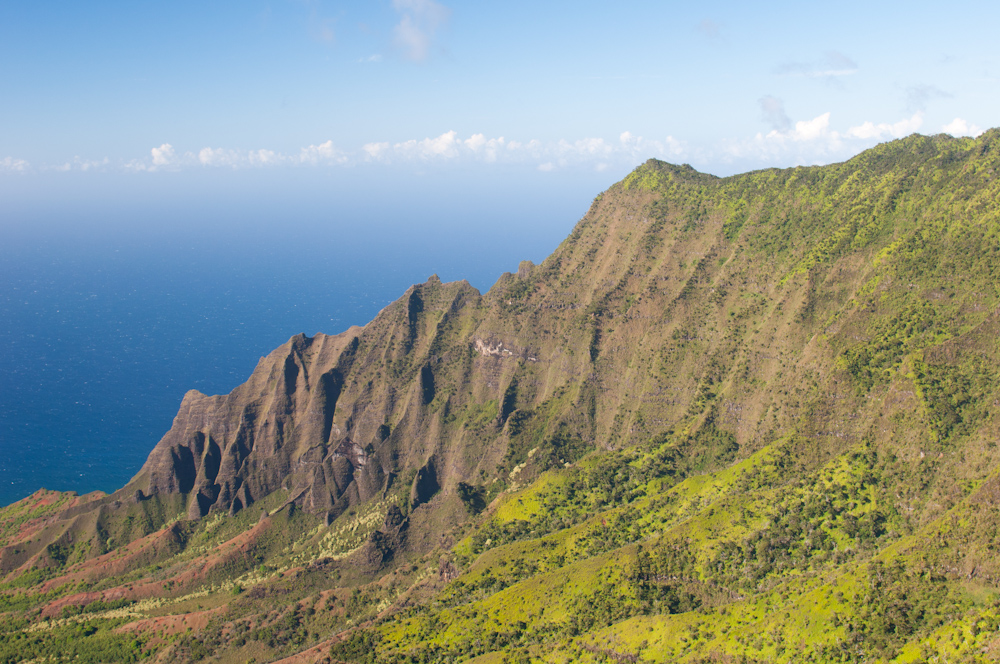 Overlooking the northern end of the Kalalau Valley, on the Na Pali Kona Forest Reserve Pihea Trail.
Scene around the Pu'u o Kila Lookout
Na Pali Kona Forest Reserve Pihea Trail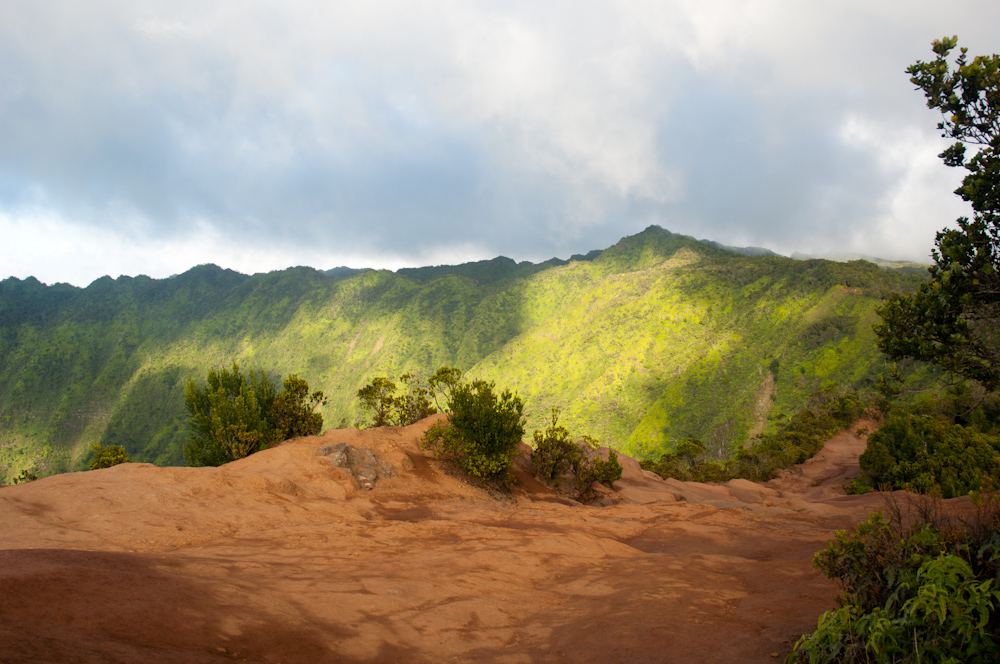 Sunset at Kekaha Beach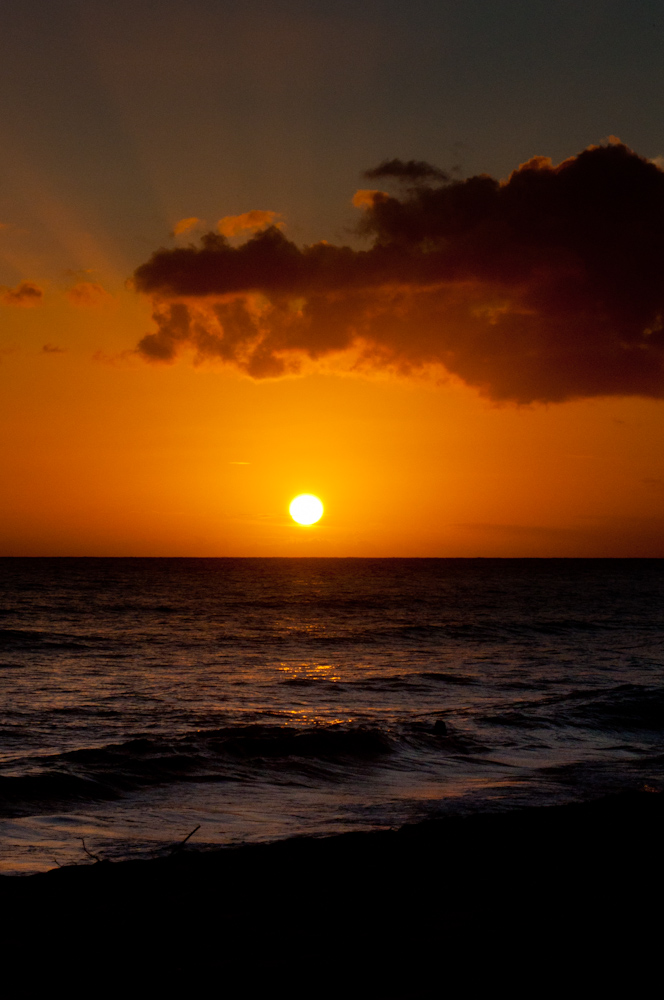 Turquoise Waters on the Hanakapi'ai Trail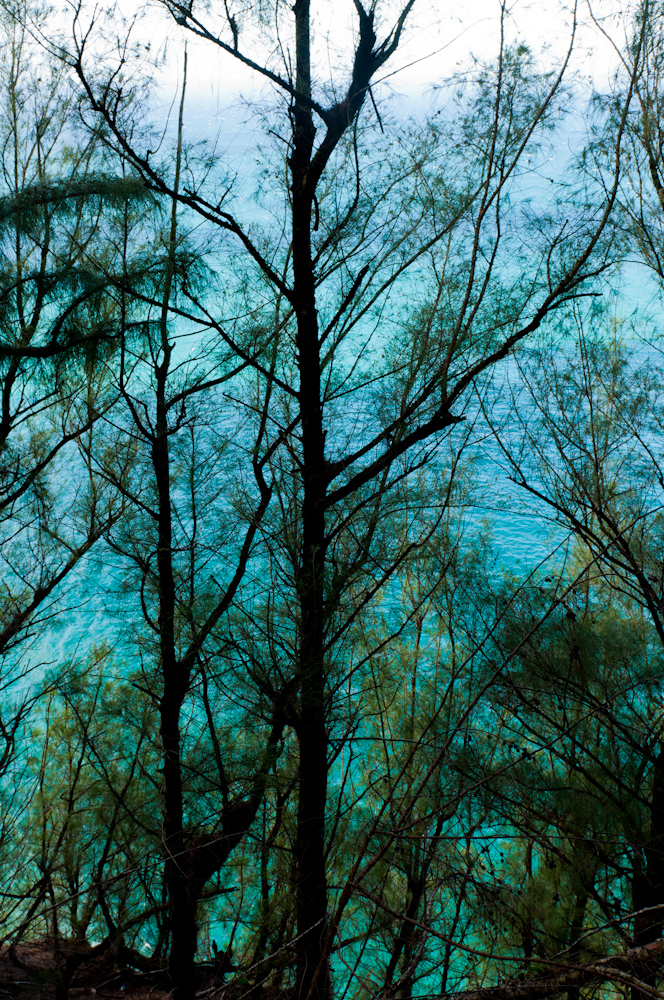 Na Pali Coast from the Hanakapi'ai Trail
The Hanakapi'ai Trail is a very rewarding hike, but beware of the conditions. We went when it was muddy and it took 1 hour 40 minutes to get to Hanakapi'ai Beach (3.25 miles). We arrived at 2pm, but ideally it would be best to arrive around noon, since the beach gets a bit dark sooner due to the tall surrounding mountains. On the way back, if you're lucky, there'll be a guy with a machete slicing open fresh coconuts.
Small Stream on the Hanakapi'ai Trail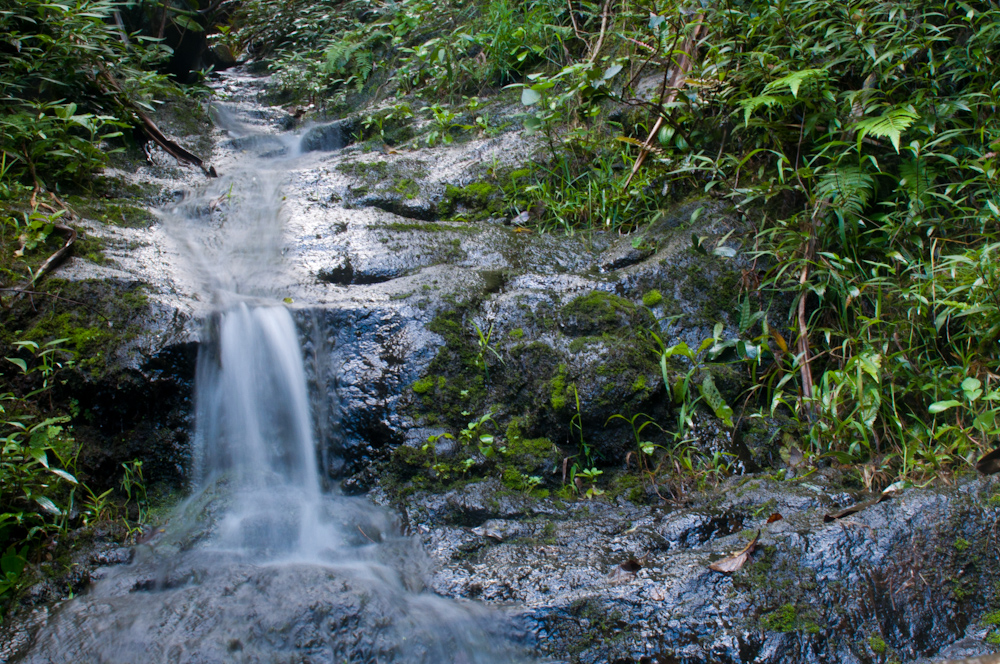 Hanakapi'ai Beach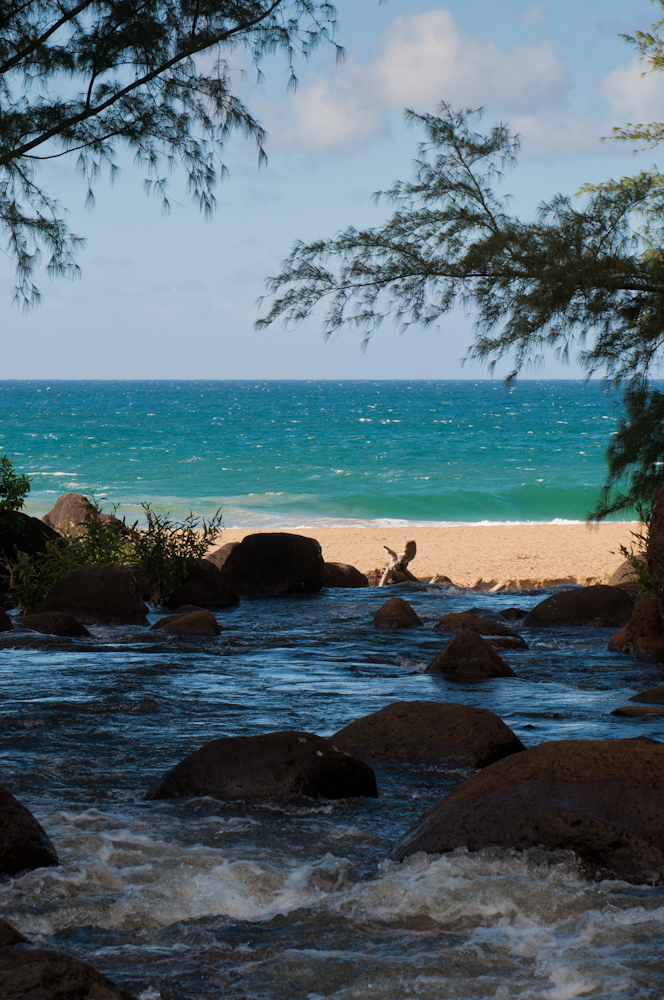 The last river you cross to get to the beach. It's waist deep and moves quite fast in the middle. Another option is to walk on the rocks toward the beach and cross a shallower stream there.
Highest Point on the Hanakapi'ai Trail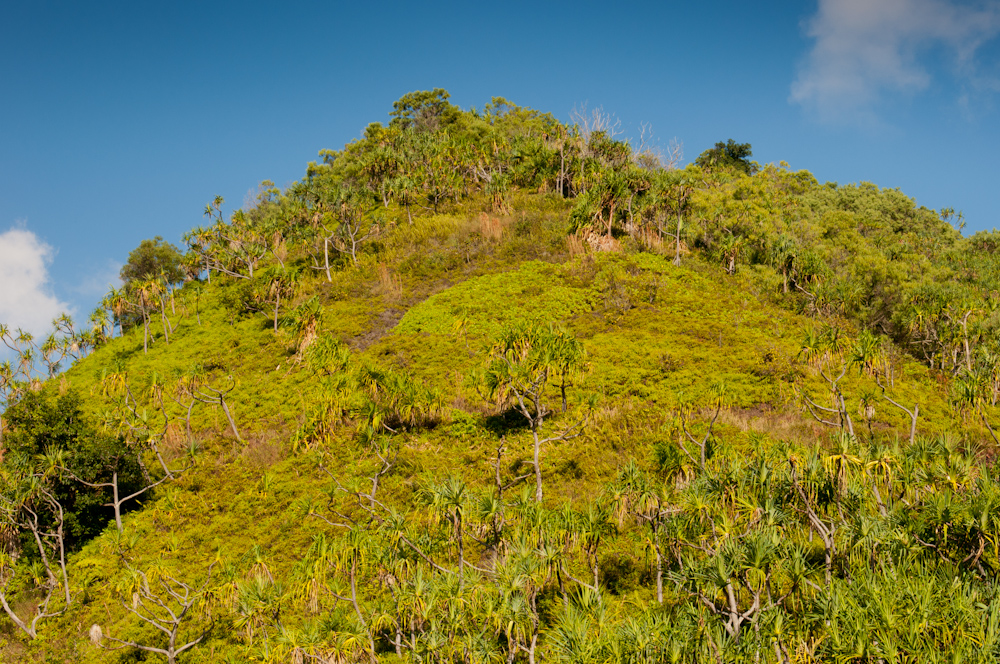 The portion of the trail to the beach snakes around the mountains and is really a sight to behold. After rains, most of the trail is muddy, with patches of dry dirt where directly exposed to the sun.
River at Hanakapi'ai Beach
To enter or exit this beach, you need to cross this river. You can do it here or further downstream, closer to the beach. You still need to do some rock hopping afterwards.
Night Sky in Koloa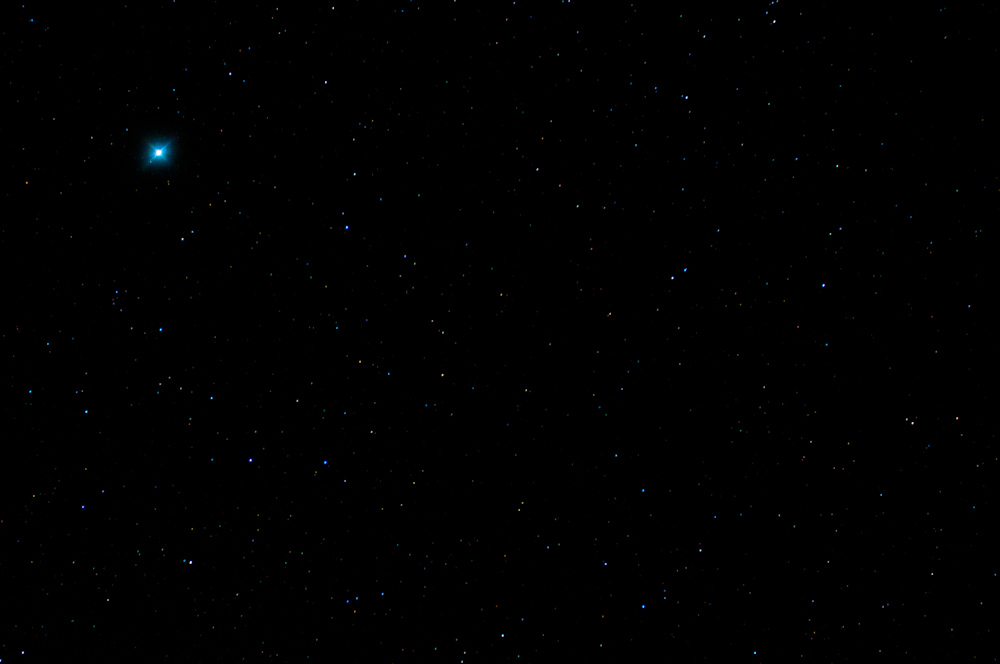 It's a pity that I can't enjoy dark skies like these at home. Stargazing next to rolling ocean waves is heaven on clear nights! This is a 13 second exposure at 𝑓/2.8, ISO 1600 of a part of the eastern sky (full size). As far as I'm concerned, I'll be using Jupiter instead of the North Star for navigation.