CloudPlay: A Music Player for YouTube, etc.
Last year, I had an idea that seemed to improve every time I thought about it. What started out as a solution to fix the problem of quickly finding music on YouTube to play in the car, turned into a realization of how everything is shifting to the omniscient and omnipresent "cloud."
It's become clear in recent years that people want cross-platform access to their music. iTunes Match, Amazon Cloud Player, and other music locker services have made manual syncing of music across different devices a thing of the past. At the same time, streaming services like Spotify and Rdio have obviated the need to actually "own" any music at all, with their all-you-can-eat monthly plans.
While these developments have been great for record labels, artists, and music lovers, there still remains a plethora of music that isn't released on these kinds of services. Some sites cater directly to helping independent artists promote their music, but a lot more is being uploaded to SoundCloud and YouTube, both officially and unofficially by fans. A record label might post a full-length track to promote download sales, or a DJ might unleash their latest remix to solicit feedback.
All these options make it difficult to find music without doing a lot of manual searching across different sites. And when you do find it, you can't add it to a playlist or like/favorite it with music from other sources. But many of these sites have great APIs that remain underused by music players.

CloudPlay, inspired by the fantastically simple interface of Winamp, is designed to stay out of your view as much as possible, by being a menu bar app. It's intended to be visually minimal, but functionally rich, with the goal of feeling more like a mobile app than a desktop app.
A web-based player often gets buried in a browser tab somewhere, making it impossible to seamlessly switch between songs on different sites. Desktop players consume lots of screen real estate and have weak, if any, support for playing music from multiple online sources.
Playing music from your iTunes library (if you have one) is a given, but CloudPlay takes it to the next level by helping you search for music on YouTube, SoundCloud, exfm, BandSoup, and providing easy access to curated playlists on Console.fm. It works basically the way Spotlight does: type a few search terms, and results from all sources are displayed.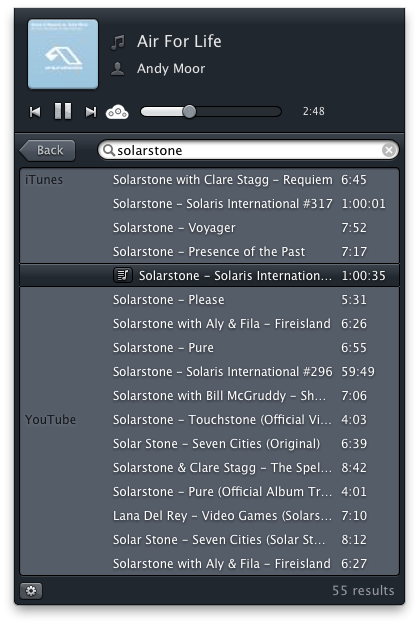 Adding tracks to a playlist is as simple as clicking on a result and picking a playlist. Naturally, a playlist can contain tracks from any of the supported sources. And since it's a menubar app, it supports full keyboard navigation, making it easy to use the player while in another fullscreen app.
In the coming months, I'll be working on improving music discovery with artist profiles, recommendations, stations, and social thingamajigs, while striving to maintain a clutter-free user experience.
CloudPlay will be officially released in the Mac App Store in the next month. In the meantime, grab a free trial version at cloudplay.fm and let me know what you think!